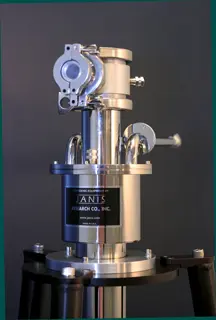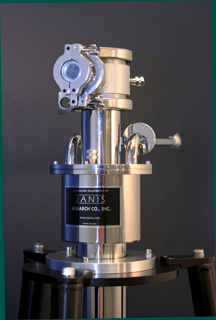 Hardware for low temperature NMR / NQR studies
Tecmag is excited to partner with Lakeshore / Janis Research Systems and NMR Service GmbH to offer a hardware solution for demanding low temperature NMR and NQR studies from <2K to room temperature including our state of the art Redstone NMR/NQR console, a Laskeshore/Janis STVP cryostat (for inserting in the bore of your superconducting NMR magnet or on a stand for Earth's field and NQR studies), and low temperature probes from NMR Service covering the full frequency range of interest–from tens of MHz to a couple GHz. Ideal for magnetic materials testing, low-temperature physics research, and NQR.
You will receive an STVP variable temperature insert (VTI) or "cryostat" from Lakeshore/Janis for liquid Helium and/or liquid Nitrogen, customized to fit your existing wide-bore superconducting NMR magnet. Perform NMR studies in flowing helium vapor (<2K to 300K) or flowing nitrogen vapor (78K to 300K) using the provided Lakeshore temperature controller.
We ship a convenient heavy-duty stand to store the VTI when not in use or for performing NQR studies outside the super-con magnet. It also includes a vacuum roughing pump, optional turbo pump, and vacuum accessories such as oil mist filters and fittings (not shown).
Our flagship console, the Redstone, is configured for your frequency ranges and supplied with RF amplifiers, preamplifiers, duplexers, and double-shielded RF cables to suit your application.
A series of low temperature NMR probes by NMR Service GmbH cover your frequency range of interest from 35 MHz to 2.5 GHz and can be equipped with an optional goniometer with specified 1 degree resolution (0.2 deg nominal) and Cernox temperature sensor for monitoring the temperature near the sample. These probes are custom engineered to fit the dimensions of your magnet and the VTI.
Please contact us for more information