General Information:
Based on many years of research and development, and utilizing the latest advances in IC technology, Tecmag is offering the most flexible and fastest NMR console available.
The digital Redstone™ is a compact, modular, Windows 10-based, NMR / MRI / NQR console with the most agile transmitter of any system on the market and configurable with multiple transmitters, receivers, and gradient channels.
A range of additional options are available including transmitter arrays, high power linear RF amplifiers, digital receiver arrays, gradient control system, shim unit, digital lock system, variable temperature unit and MAS spin-speed controller. With its numerous options, the Redstone can be configured for any NMR, NQR or MRI application in the frequency range from 2 kHz to 3.5 GHz. Tecmag's TNMR™ software lets you use the same powerful software for instrument control and for off-line processing of spectroscopy and imaging data.
Advanced System Architecture:
The Redstone system uses a distributed architecture of individual function clusters interconnected with a 10 Gbit/sec interface and USB 2.0. This fast interconnection guarantees precise synchronization among clusters and offers unprecedented speed and scalability. Each transmitter, receiver and three-axis gradient system is packaged as an individual cluster. This architecture allows the Redstone to be easily expanded up to 128 transmitters, 512 receivers and 128 x 3 gradient channels.
Advanced Capabilities:
The Redstone offers the highest digital RF performance available: fast simultaneous phase, amplitude and frequency control; 3rd generation digital receiver for large bandwidths and high dynamic range; together with the EM-III advanced technology pulse programmer. These new capabilities result in the fastest NMR spectrometer on the market and allow the most demanding NMR / MRI experiments to be implemented. Some features include:
10 ns minimum pulse width

10 ns timing resolution

< 10 ns phase switching

0.0055° phase resolution

< 20 ns phase-continuous frequency switching

64 Million point waveform memory for each transmitter and gradient channel

12.5 MHz (80 ns per complex point) digital receiver bandwidth

Up to 24-bits of digital receiver dynamic range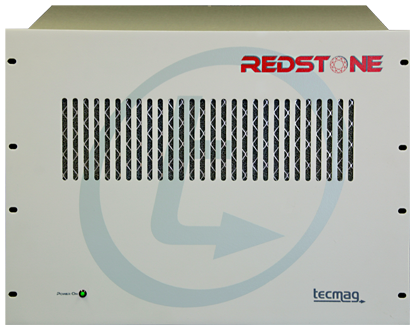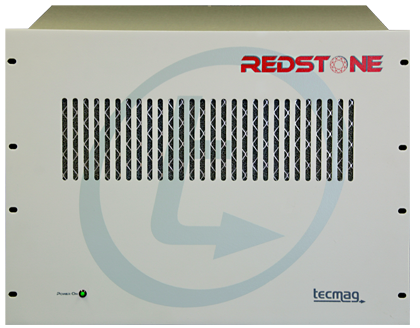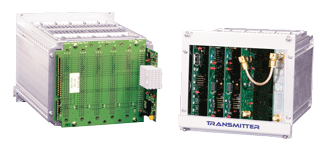 Flexible Configurations:
The Redstone is provided as a 19″ chassis that can be used on the desktop or rack mounted along with other equipment. TNMR™ is pre-configured for your application and includes an application specific pulse sequence and a NMRscript® library for a fast start, and comes with a site license for all your workstations. Configurations are available for:
Solid-State NMR

Imaging

NQR

Liquid-State NMR

O.E.M. specific applications
For a new spectrometer, or a replacement console, the Redstone's modular design, numerous options and advanced capabilities make it the ideal research tool.